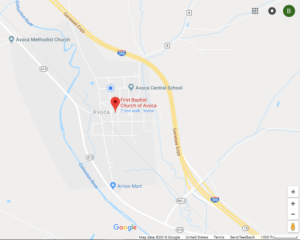 First Baptist Church of Avoca
1 Church Street
PO Box Q
Avoca, NY 14809
Please join us on Sunday mornings at 8:15 a.m. or 11:00 a.m. for a time of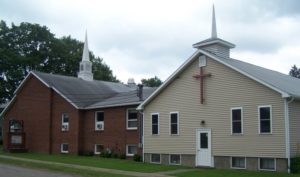 worshipful singing, prayer, and study of God's Word, the Bible. The difference between the two services is the format and style of the music (and the early start for that first service). The 8:15 features a live worship band leading in a more contemporary style while the 11:00 worship team weaves more hymns into a style that reflects on the scriptures that go along with the music and sermon.
We also have Sunday School at 9:45 a.m. with classes for all ages. These are opportunities to discuss and apply God's instructions in a smaller group setting.
At 6:00 p.m. on Sundays there are a variety of activities that might be taking place. The adults meeting for testimonies, songs, & Bible study. The FOLD (Teen group) having games, Bible study and prayer. The MAPS kids doing a project to help with our missionaries. On the 4th Sunday night of each month we plan on a fellowship night for all ages that we call Acts 2:46.
Feel free to reach us at 607-566-2077 or FirstBaptistAvoca@firstbaptistavoca.org or on facebook !
You can navigate to our other information by clicking on the links on the menu at the top or side of this page.
The calendar and giving links have moved to the Resources page.
This week's bulletin: click here.